Welcome to another rundown of the gaming news from yesteryear. It's like a time machine, only without requiring lightning and chafing nearby roads, or removing your clothes, or giving you an early 90's surfer dude accent.
Because the Dreamcast was practically dead at this time, it seems every Dreamcast magazine had died around this time, and those that were around had little to report in terms of news. The Xbox was now on the scene, but sadly magazine scans are a little hard to find at this point. However, there are heaps of Gamecube and PS2-related news to sift through this month!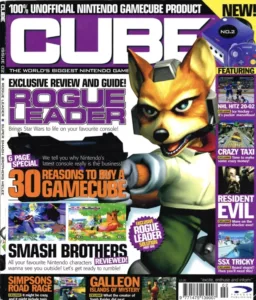 First up, it's issue 2 of Cube, a UK-based Gamecube magazine. The console hasn't even hit UK shelves yet, so at the moment the mag is catching up with reviewing the games already released elsewhere in the world, such as Star Wars: Rogue Leader (9.1 out of 10), Super Smash Bros. Melee (9.0) and The Simpsons: Road Rage (7.8).
This month's news mostly focuses on the US launch of the Gamecube, where the system shipped 660,000 consoles to retail and sold 400,000 on day one! Meanwhile, after a slow start in its native Japan, the 'cube is finally picking itself up off the ground – No doubt due to the release of Super Smash Bros Melee.
But here in the UK, we were still waiting to get the Gamecube ourselves. However, Nintendo has said that the system will launch in April/May – It would actually end up here on May 3rd.
In more disturbing news, rubbish platformer James Pond will be getting an update on the Nintendo Gamecube. Thankfully, this didn't happen, and everything was right with the world again.
Let's continue with the Nintendo related fun with issue 113 of the Nintendo Official Magazine (UK). The Simpsons: Road Rage is the big cover game, with a full 9-page preview of the upcoming Crazy Taxi clone – Closely followed by a 7-page preview of Super Smash Bros. Melee. The reviews aren't as impressive, with the 90%-rated GBA version of Shaun Palmer's Pro Snowboarder, Pac-Man Collection (85%) for the GBA, and a whole heap of other GBA shovelware.
Still, there at least seems to be some more exciting news. The popular International Superstar Soccer series is coming to Gamecube, with the news pages filled with screenshots of the exclusive Gamecube game. Only, it wasn't much of an exclusive, also making its way to PlayStation 2 and Xbox later on.
If that didn't get you giddy with excitement, how about the world's first screenshot The Flintstones: Viva Rock Vegas, a racing game based on the godawful movie flop. Not excited? Oh well, it doesn't matter because the Gamecube version was cancelled anyway (already being cancelled for the Dreamcast, but eventually finding its way to the PlayStation 2).
In the weirdest piece of news this month, Nintendo is teaming up with a "flower manufacturer" to produce a real "exclusive" Pikmin plant. I was about to consign this one to the "bull plop" list when I actually found out that this actually happened. The Chaenostoma cordatum, also known as the Bacopa Cabana (Say it out loud. Yes, really) was a plant bred by S&G Flowers USA in partnership with Nintendo of America. It was a five-petalled white flower with a yellow centre that looks like the blooms on top of Pikmins' heads.
But it's not all about Nintendo and the Gamecube. After all, the Sony PlayStation 2 has been going full steam ahead for a while, and so we move to issue 17 of PlayStation 2 Official Magazine UK. Its cover is emblazoned with imagery from Metal Gear Solid 2: Sons of Liberty, in preparation for a huge 10/10 review verdict! Elsewhere, both Parappa The Rapper 2 and Ace Combat: Distant Thunder get 7/10. Not that the original PlayStation is ignored, as Army Men: Team Assault gets 7/10 and Goofy's Fun House gets 5/10.
In its news pages, the sequel to Hitman: Codename 47 has been announced for a PlayStation 2 release. Promising 20 missions, first and third-person viewpoints, and mid-mission saving; the game that would be named Hitman 2: Silent Assassin is due for release in Spring 2002.
The Rockstar-published State of Emergency is next in terms of news. A 3D belt scroller of sorts, they're talking it up as the next game to feel the ire of the mainstream media. In reality, it came and went without a trace. Yet, in the same box out, there is a brief report on GTAIII releasing in Australia before being removed from shelves and recalled a month later due to their censorship body refusing it a classification. The game would later make its way to Aussie shelves a while afterwards, given an MA15 rating once a censored version was released, removing prostitutes and other sexual content from the game. GTAIII would later be resubmitted for reclassification and slapped with an R18+ classification upon its uncensored re-release in 2019.
The first details of PlayStation 2's broadband connectivity have been revealed. Technically at this point, Tony Hawk's Pro Skater 3 can go online with network play, but there is no central service for PS2 owners. Trials with Telewest are currently taking place, as the broadband providers are partnering with Sony Europe for the service, allowing PS2 owners to play games, download demos, surf the net and more on their systems. A date for the required Broadband Adapter and Hard Drive is not yet available.
Finally, the mag is looking towards the US release of Final Fantasy X, as the game launches early in that region thanks to a quicker than expected localisation process. The game wouldn't be due for release until Summer 2002 in the UK – Although it ended up being slightly earlier, in May 2002!